Canadian War Series David Craig WW2 Collectors Print Edition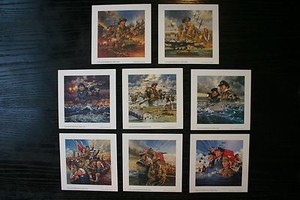 ---
All eight are included in this WW2 Canadian War pack which commemorates Canada's Contribution to WWII a must have for any collector or gift for a veteran.
True Patriot Love
From East To Western Sea
Glorious and Free
We Stand On Guard
We See Thee Rise
With Glowing Hearts
In All Our Sons Commands
Strong And Free
Artist David Craig, a highly acclaimed Canadian illustrator has always enjoyed communicating through art.  As a young person growing up in Ottawa Ontario, Craig developed his keen fascination with the depiction of Canadian history.   As a professional artist he has had many opportunities to further hone this unique talent.  Craig has designed several coins for the Canadian Mint including the sesquicentennial silver dollar.  He has also created a series of paintings commemorating Canada's contribution during World War II.  Such projects have allowed Craig to develop his own unique style typified by bold colour combinations.
Paper Size 7 1/4  x 7 1/4 and Print Size 5 3/4  x 5 3/4