22552 CatWoman fighting action figure Schleich Justice League DC comics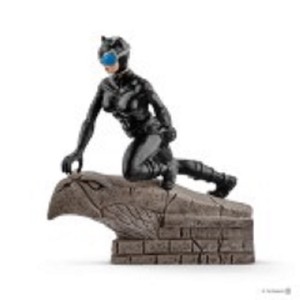 ---
CATWOMAN™

Item number: 22552

Dimensions: 5.5 x 3.3 x 7.3 inch (W x D x H)

CATWOMAN™Product details

CATWOMAN, the master thief, is setting off on a new heist. She is wearing her leather cat suit. All DC characters and elements © & TM DC Comics. (s16)

CATWOMAN is a fantastic thief. She's usually Batman's opponent, but sometimes she fights on his side too. She enjoys the thrilling game of cat and mouse with BATMAN and the police. All DC characters and elements © & TM DC Comics. (s16)
Fun fact
CATWOMAN loves cats so much that she takes lots of strays into her home.
Our elves, knights and animals feel comfortable anywhere and can be taken with you everywhere you go. You can always take your toys with you and turn any place into a playground.
That is why the Schleich motto is "Anywhere's a Playground".
All Schleich's figurines are carefully painted by hand with great attention to detail, which makes them unique.
 These toys from Schleich have educational properties as they promote creativity, thought and independence.These figurines are not only fun for kids but they are also a great collector item.  
 Stop in and visit our e-store for many more great choices. Will gladly give shipping discounts and or ship internationally.---------If you add us to your favorites list you will be updated by e-bay when we list new items. Don't forget to sign up for our monthly news letter ! ---------We strive for wonderful relationships between our customers and ourselves. We love it when our customers send pictures of what they have made, or there collections that we have helped build. We pride ourselves on availability. I am disabled and often ill. Our goal is next day shipping but that does not always happen. On the other hand if you want to make payments, or need extra time to pay we are happy to work with you as well, just keep us informed as to what is going on. will auto-send the non payment notice. If you need more time than you have been given just say something. We are happy to work with anyone.<>< Also, please realize that we operate a walk in store. Sometimes luck is a funny thing and an item will sell in the store and we won't get it removed from e-Bay inventory fast enough. We try very hard to keep up but mistakes are made. Please forgive us and let us work with you.  We will do whatever it takes to make our customers happy:)---<>